Mouse
Product code: Hard Reflectors DOG_Silver
Description:
The best quality hard tags in unique designs and colours. A reflective element that reflects in the eyes of the approaching car driver, impossible not to notice! The reflective pendant is useful for both children and adults to be visible and safe on the road.Perfect for jogging, cycling and working after dark, where good visibility can determine safety.
Reflector for mounted to clothing or backpack.
Ideal reflector for mounted to clothing or backpack.
Dimensions: 6-7 cm.
Certified product CE EN 17353
Possibility of choosing a mounting.
Pendants are made of a environmentally friendly polystyrene(easy biodegradable).
Finnish production
Certificates: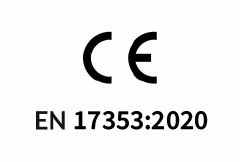 Order fulfillment time:
7-10 working days
To check the exact delivery date
for this order, please contact us by phone